Carina's Quadruple Book Review
(NF) This is What Inequality Looks Like by Teo You Yenn
Pages : 288
Written by Associate Professor and Provost's Chair of Sociology at Nanyang Technological University, This is What Inequality Looks Like is a searing ethnography of poverty in Singapore. Often swept under the carpet because they challenges our national narrative of progress, poverty and inequality remain a difficult truth that many Singaporeans choose to overlook. Having developed from a third-world country to a first-world one in merely 50 years or so, much of Singapore's "pioneer generation" (those that lived or were born in Singapore before Singapore was a thing) grew up in conditions of poverty rivalling those of the poor now, but refuse to acknowledge that being poor in a third-world country is not equal to being poor in a first-world one. This, among other problems, is why poverty is so inexplicably tied to social inequality in Singapore. Teo Yeo Yenn brings poverty to the spotlight with this collection of eloquently written essays that incorporate a surprisingly personal touch, making it clear that Singapore's poor are denied dignity and made invisible by willful and sometimes intentional blindness on the part of the general public. It is a very thought-provoking read, and I definitely recommend this to anyone who is interested in learning more about Singapore.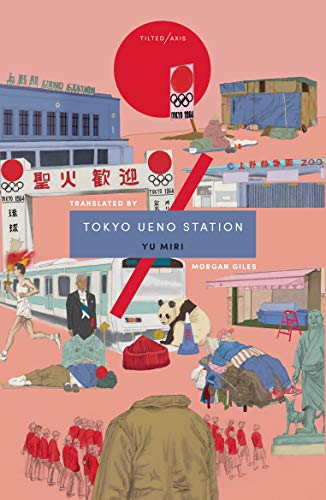 (F) Tokyo Ueno Station by Yu Miri
Pages : 168
Translated from Japanese, Tokyo Ueno Station is a short novel that takes a poetic approach to social commentary. Set in one particular spot in Tokyo and told from the perspective of a ghost haunting Tokyo Ueno Station, where he once lived as a homeless man. Kazu, the aforementioned ghost, traces his memories in life and revisits the park where he spent his final years. While providing an undoubtedly emotional journey, this book doubles as social commentary on the divisions between the rich and poor in contemporary, post-war Japan. For this book, Yu actually visited the homeless living in the park next to Tokyo Ueno Station to gain an authentic perspective for this book. Definitely recommend to anyone who has some time on their hands.
(F) The Island of Sea Women by Lisa See
Pages : 366
The Island of Sea Women is based on the century-spanning history of haenyeo women on Jeju Island– a collection of female divers known for their independent spirit who free dive off the coast of Jeju Island near South Korea to harvest various sea creatures. It follows Young-Sook and Mi-ja, girls from strikingly different backgrounds who both grew up on the island of Jeju. They work as haenyeo's in the village, and their story is traced through Japanese colonialism of the 1930s and 40s, World War II, the Korean War, and to the present. I had never heard of the haenyeo women before I read this, and it was definitely one of the highlights of the book. The historical and cultural aspects of the book are beautifully rendered, and I'd recommend this to anyone who likes reading historical fiction.
(NF) Till We Have Faces by C.S. Lewis
Pages : 314
Published in 1954, till we have faces is the myth of Cupid and Psyche retold from a different perspective. Interestingly, C.S. Lewis personally considered this to be his best work (which is surprising considering how unknown it is compared to the Chronicles of Narnia). Instead of starring Psyche in this retelling, he chooses to tell the perspective of one of the alleged "villains" of the original myth– Psyche's sister, Orual. This book is rife with philosophical and theological elements, and was heavy and sometimes confusing reading but also definitely a worthwhile one. There's a lot to unpack, and it gets depressing at times due to the passionate and sometimes dark emotional current throughout this novel. It takes on an interesting format as an appeal to the gods from Orual's perspective, and I would strongly recommend this to anyone interested in mythology and theology.