March Book Reviews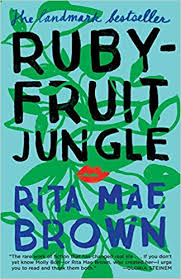 Rubyfruit Jungle by Rita Mae Brown
Length : 216 Pages
Rating : 7.5/10
Similar Books : Annie on My Mind by Nancy Garden
Rubyfruit Jungle is a powerful coming of age novel published in 1973 that was remarkable, even revolutionary in its day for its explicit portrayal of LGBT themes. Reviews are particularly mixed. It received much criticism at the time of publishing for Brown's raunchy, sometimes profane writing and her frank portrayal of human sexuality that challenged antiquated beliefs of purity. However, it also received much flack in much more recent times for the absence of dynamic characters and certain scenes that didn't age particularly well (like incest). To elaborate, it is obvious that the protagonist, Molly, is a thinly veiled autobiographical character. There is nothing inherently flawed with this, but Molly has almost 0 character development throughout the story, with her "I'm smarter, better, and more enlightened than everyone" attitude constantly present throughout. There is nothing human or realistic about her. However, this is not to say that Rubyfruit Jungle was not a powerful, even symbolic book for many, and at the end of the day it's important to note that this book was written in a completely different time. I appreciated the revolutionary nature of this book, but sometimes that in itself is simply not enough.

Where the Crawdad's Sing by Delia Owens
Length : 368 Pages
Rating : 6.5/10
When I first started reading this book, I was immensely enthralled by the almost poetic imagery in the introduction. (This was explained when I later found out that Owens used to be a nature writer). However, as the book progressed, it developed a YA-esque feel. Also, I definitely did not realize that this book focuses on romance, which I personally don't particularly like. As the story progressed, this romance arc gradually became more and more trite. While I enjoyed Owen's writing, I did not appreciate the plot. Recommended if you like romances and predictable murder mysteries.
Gilead by Marilynne Robinson
Length : 247 pages
Rating : 8.5/10
Similar Books : The Diary of a Country Priest by George Bernanos
Narrated by John Ames, a 76-year old pastor facing imminent death, Gilead is a letter to his 7 year old son, the fruit of his marriage with a much younger woman. It is set in 1956 in the small fictional town of Gilead, Iowa, and is written in the form of a diary, with long and short entries, moral advice, and anecdotal stories from his past. It won the pulitzer prize for fiction in 2005 and can be characterized by Robinson's serene, enchanting prose. Throughout the novel, Ames describes his earliest memories of the generations before him, exploring his theological struggles on multiple fronts. While it starts off slow, Ames' character is intriguing and one cannot help but be drawn in.

A Long Way Gone : Memoirs of a Boy Soldier by Ishmael Bael
Length : 229 Pages
Rating : 7.5/10
Straightforward and horrifyingly graphic, Bael narrates his involvement as a child soldier fighting rebels in the Sierra Leone Civil War. This book was a rather difficult read due to the nature of its content, and while the subject matter remains heartbreaking, the book itself was rather lacking. From an almost complete lack of context in the beginning to key moments being skimmed over and its vague ending, it constantly leaves more to be desired. It's only redeeming point lies in its blunt portrayal of the realities faced by civilians in similarly war-torn countries, so I would still recommend this book to anyone looking to gain insight on the real cost of war.